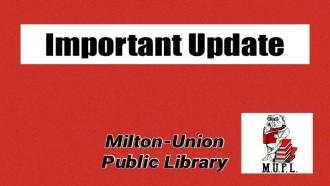 The health and safety of the staff and patrons during the COVID-19 pandemic are our main concern.  After much consideration, the Milton-Union Public Library has decided to close the library and suspend all operations as of Wednesday, March 18 at 8:00pm until further notice.
The Library will regularly evaluate the situation to determine the appropriate date to resume services.
All due dates for library materials will be extended for the duration of the closure.
We encourage you to explore our Digital Library, where you can find ebooks & magazines on Overdrive, videos on Hoopla and much more on the various databases.  Ancestry.com is now available outside of the library building.
Please contact the Library through our website or Facebook if you have any questions or concerns.
Event type
Adult Program
Children's Program
Teen Program